Medical Treatment Information
Reception Hours
Consultation days

Monday - Saturday
(Closed on Sundays and national holidays)
Reception Hours

8:30 a.m - 11:30 a.m.
(The entrance opens at 8:30 a.m. to prevent new coronavirus infection)
Examination Hours

9:00 a.m.- 12:00 p.m.
Outpatient Consultations
Flow of consultation
1.Appointment
Our hospital is by appointment only to minimize waiting time for consultation.
The first visit
Appointment Form in English
What to bring for your first visit
Insurance card (original) *If we cannot confirm the insurance card, the full amount will be charged.
Referral letter (if you have been to other hospitals)
Medication book (or something that shows medication details)
Revisit
To make or change an appointment for your follow-up visit, please call us by 5:00 p.m. the day before you wish to make the appointment.
Please call in the afternoon (13:00-17:00) as mornings are busy.
2.Reception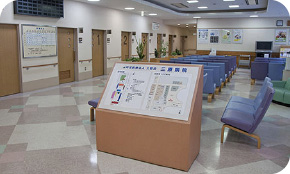 Please present your patient ID card to the Outpatient General Reception. (We will check your insurance card once a month.)
You will be given a number for today's medical consultation, so please wait at your seat.
(If you will be away from your seat for the time being, please let the receptionist know.)
3.Examination
The doctor will announce the following from the examination room via internal broadcast.
Your number
Examination room number
4.Accounting
After the examination, as soon as the payment has been made and the prescription has been filled, you will be called by your number.
About Medication
Please submit your prescription to a pharmacy which you choose.
Information on hospitalization
Procedures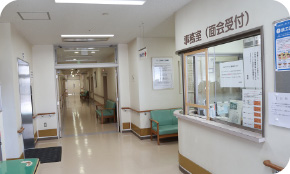 You will be asked to fill out and sign a hospitalization contract and other necessary documents.
Please bring the following to the Visiting Reception Desk (1st floor of the Treatment Wing) when you visit or pay your deposit.
If there are any changes in the contents or address of your insurance card or certificate of maximum amount, please notify us as soon as possible.
We will explain about hospitalization costs, welfare systems, etc., so please feel free to consult with us if you have any questions.
What you need to prepare for hospitalization procedures
3 seals (so called "INKAN", "HANKO") of the patient, guardian, and guarantor.
Medical insurance card, certificate of maximum amount, etc.
In addition, we will check your insurance card and limit certificate once a month.
About Expenses
The following fees are required for admission to our hospital.
1.Deposit
① A deposit of 30,000 yen is required at the time of admission to the hospital for daily necessities (* This will be returned upon discharge).
② If payment for hospitalization and daily necessities cannot be made by the scheduled date, the deposit will be used to cover the cost of the hospitalization and daily necessities.
2.Medical Expenses
① The bill is due at the end of each month and will be sent around the 10th of the following month.
② Please make payment by the following method within the month of sending the invoice.
Payment in person at the visiting reception desk (1st floor of the treatment wing)
(*Payments can be made on holidays)
Bank transfer from the post office (*A bank transfer form is included with the invoice)
3.Meal expenses
① From the day of admission, meal expenses are to be paid by the patient.
② The copayment amount for meals is determined by health insurance.
③ If you miss a meal due to an overnight stay, etc., but do not report it by the designated time, the meal will be prepared for you. If you need to stop eating due to an overnight stay, etc., please notify the ward staff as soon as possible.
Breakfast

5:30 p.m. on the previous day
Lunch

0:00 a.m. on the day
Dinner

2:00 p.m. on the day
※If no notification is received by the deadline, the meal expenses will be charged.
④ The cost of meals is not covered by the high-cost medical expense benefit (KOGAKU RYOYOHI SEIDO).
⑤ The meal charge will be shown on your medical bill (meal cost).
4.Daily necessities expenses
① This refers to uninsured expenses, snacks, laundry, etc. used by patients during inpatient care. As a general rule, the hospital will take care of these expenses, and the amount used will be deducted from the deposit. (Please deposit 30,000 yen to 60,000 yen at the time of admission to the hospital and at the visiting reception desk in advance.
② In addition, we charge 135 yen per day as an expense for the IC card system (IC card management fee).
③ Please check the balance as needed and replenish it to avoid shortfalls.
Necessary items for hospitalization
Wards 1.2.5.6.8(acute psychiatric wards,convalescent wards, etc.)
Wards 3.7 (dementia treatment ward)
Toiletries
Utensils

Plastic cup
Shampoo
Rinse
Wash basin
Toothbrush
Toothpaste
Bath towels
Towels
Razors are allowed only if they are battery-operated.

Plastic cups
Toothbrush
3 bath towels
5 towels
Razors may be brought in only if they are battery-powered.

Indoor
footwear
Clothing

Clothes (easy to wash)
Socks
Underwear
Sick clothes (nightgowns), etc.

5 pairs of jackets
5 pairs of pants
5 shirts
3 pairs of socks
Sleeveless vest (in winter)
Please choose either ① personal items or ② leased items (including laundry) for clothing. If you wish to lease, please let us know.
Please write your name clearly on your belongings if necessary, as they may be lost. The hospital cannot be held responsible for lost items.
Matters under hospitalization
About Visiting
In consideration of the patient's rest during hospitalization and the interference with treatment, visiting hours have been set and must be observed.
Remote visiting hours : 2:00 p.m. - 4:00 p.m.
(*For the time being, remote visits will be conducted using the hospital's dedicated terminal to prevent the spread of COVID-19. Please make a reservation in advance.)
Visiting hours (regular) : 9:00 a.m. - 7:00 p.m.
(*Visiting on Sundays and national holidays is also possible.)
Going out and staying overnight
1.Permission from the attending psychiatrist is required for outings and overnight stays. Depending on your medical condition, you may not be allowed to go out or stay overnight.
Please understand that you may be asked to go out or stay overnight due to your medical condition.
2.Family members are requested to fill out the "Overnight Stay Out" form).
3.Please understand that even once permission is granted, it may be revoked due to changes in the patient's medical condition.
4.Please be sure to contact the ward if you will not be able to return home in time.
Going out time
As a general rule, the hours for going out are as follows, regardless of whether it is inside or outside the hospital, or during the season.
9:00 a.m. ~ 5:00 p.m.
Discharge from our hospital
1. Please leave the hospital by 11:00 a.m. on the day of discharge.
2. When leaving the hospital, please pay the hospitalization fee up to the day you leave.
Purchasing
1. A store is available in the hospital.
2. Business hours: Weekdays 8:30 a.m. to 5:00 p.m. Sundays and holidays 8:30 a.m. to 3:00 p.m.
Others
1. Please note that you may be asked to transfer to another ward during your hospitalization. Especially in the Acute Psychiatric Care Unit (Ward 1), there are many emergency admissions, so we may ask for a sudden transfer. This is because we need to provide appropriate treatment according to the patient's condition. We ask for your understanding and cooperation. The ward will contact your family when you are transferred.
2. If there is a change of guardian (death, etc.) or a change of contact information, please contact us immediately.
3. If you have any problems or questions during your stay in the hospital, please consult with our social workers or the Visiting Receptionist on the 1st floor.
4. Please note that some certificates and medical certificates cannot be prepared on the same day.
5. You may bring in a wheelchair to be used during your hospital stay.You may also purchase a wheelchair for use at the time of admission (or during hospitalization).
6. The hospital is designated as a training center for doctors, nurses, psychotherapists, occupational therapists, and social workers. During the training and practical training, you may participate in the hospital wards and treatment programs, etc. Please understand that we will ensure the protection of your privacy. If you have any requests regarding the trainees, please contact the ward staff.
Distinctive Medical Care System
As a specialized psychiatric institution, it has an inpatient ward with 392 beds and provides a wide range of treatment from mental illness in children and adolescents to psychiatric disorders of old age such as dementia, and offers seamless and detailed team care from acute treatment to community life and employment support.
In response to the growing importance of psychiatric care, we operate a variety of treatment projects based on our attention to the latest trends and accumulated knowledge. We will do our best to make you feel better.
*Our hospital is designated as a base medical institution (emergency psychiatry, schizophrenia, dementia, child and adolescent, disaster medicine, alcohol use disorder) in the "Hiroshima Prefecture Health and Medical Care Plan" formulated by Hiroshima Prefecture.
Medical treatment system in English
The number of hospital admissions by foreigners who do not speak Japanese is increasing.
Mihara City, home to Hiroshima Airport, has a large number of foreign workers. In recent years, there has also been an increase in the number of patients seen by those who generally do not speak Japanese, such as those who have difficulty returning to their home countries due to COVID-19.
(American, Irish, Indian, Chinese, Filipino, Vietnamese, etc.)
Although we are not fluent in English, we will do our best to support your treatment with our staff who are interested in English and with translation equipment.
We hold team training sessions with native English speakers.
We have established a specialized team within the hospital to prepare for the treatment of patients who cannot speak Japanese, which is expected to increase in the future. (psychiatrist, nurse, laboratory technician, social worker, and administrative staff).
We are striving to improve our ability to respond to such patients by holding team training sessions with a native English speaker (Monday, November 16th, 2020).